Smart city.
Connect people and places.
For public spaces, smart buildings, parking lots, traffic sign installations, utilities, energy and other shared spaces.
Big data is a great opportunity for cities and organizations to become more agile and better manage their resources and activities. SpinetiX open technology allows you to instantly share real-time data to your users and stakeholders when and where they need it, whether it is gas and oil prices, traffic information, city events, advertising or even social media feeds.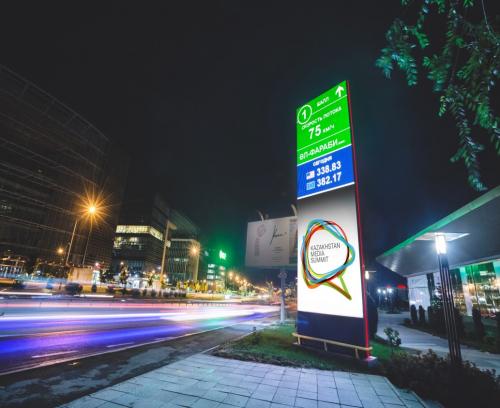 Relieve traffic congestion.
"I used to spend so much time on the road. The new traffic signs throughout the city are really efficient. You get real-time traffic information way in advance on your journey and they actually advise you for alternative routes with the estimated time of arrival. Car rides are now much less stressful and even if roads are still busy, I now get a clear and realistic information on the time to my destination."
Daily commuter, Almaty, Kazakhstan
Communicate with citizens.
"We use SpinetiX digital signage solution to advertise district events and services. We encourage people to use shared services displaying closest available city bikes or cars and public transportation throughout the city. It is also a great way to engage people in small-scale direct democracy; each week, we conduct a poll on our interactive kiosks to get people's opinion and ideas about daily life topics. We communicate poll results and related decisions on the display screens."
District mayor, Dubai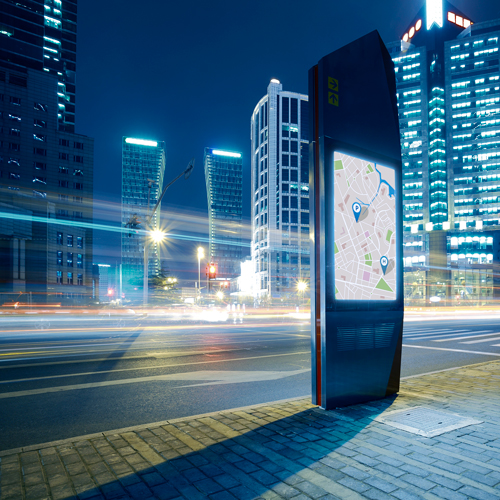 Manage your buildings smartly.
"We launched an energy and repair savings program across our housing stock. It relied a lot on tenants to succeed so we needed to get them to change some of their behavior regarding common spaces. To that aim, we implemented screens in the lobby of every building. As content manager, I try to keep it fresh and relevant so that residents keep noticing the information and act upon it; and it works!
We noticed major energy savings in common areas and a decrease in incivility alerts which are the main topics addressed. If you inform people and show them how they can help, they ultimately do it."
Communication manager for a social housing agency, Austria
Our references at a glance.
Thanks to our ecosystem of partners and distributors, we empower companies and institutions around the globe from parking lots to trading ports with data-driven content.
Almaty - Kazakhstan
SpinetiX powers a data-driven traffic road sign system in Almaty. Cameras and sensors installed in the direction of traffic capture data which is directly processed by the SpinetiX media player. Depending on received data, an image and info in three languages (Kazakh, Russian, and English) is being updated in real time on the LED screens.
Centre Patronal - Switzerland
The Centre Patronal in Lausanne indicates parking availability in real time thanks to the synchronization of the parking ticket system with SpinetiX. Elementi allows them to display it in an appealing way along with other information.
Sozialbau - Austria
Sozialbau installed screens using SpinetiX technology to display nearest train schedule, road traffic, building announcement, waste messages, waste locations and so on to their tenants.
From Le Centre Patronal in Switzerland to biggest dry port in the world, many organizations and cities trust our solutions.
If, like our top clients in smart city applications, you have specific needs and want to know how SpinetiX can address them, contact us!